MEREDITH DONNACHIE
---
Meredith Donnachie
They/them
Sculpture and Environmental Art Year 2
I use my body as the site and stimulus for my work, exploring the realms of dysmorphia and dysphoria. I try to articulate/reify my feeling of my body as a foreign object, through abstract sculpture and collage, and smaller drawings/paintings.
I view 'queer art' not as something that emanates solely from 'queer artists', but as an alternative canon that has been created through irony and camp. I'm wary of categorising my art as 'queer' because I think it reduces it; I find that art I've created with the express intention of 'queerness', is often aesthetically trite or overdone, mimicking some flat Warholian or John Waters-esque representation of deviant glamour. I am suspicious of companies that capitalise on the queer market in the name of diversity; I think a more genuine form of trans inclusion within the arts would come from a grassroots trans-led art movement itself. Hopefully in the next decade, the public will be more sensitive to institutions or corporations that use identity politics to sell products or gain queer customers.
Some trans/non-binary contemporaries on Instagram I find interesting are
@tragedy_grime_buster_gold
,
@laura_bowels
, and
Aaron Feeney
(
@touchmoss
), with whom I collaborated on a recent project.
My Body is a Cathedral
Printing ink on glossy photo paper, white gel pen, passport photocopy, photo collage A4
---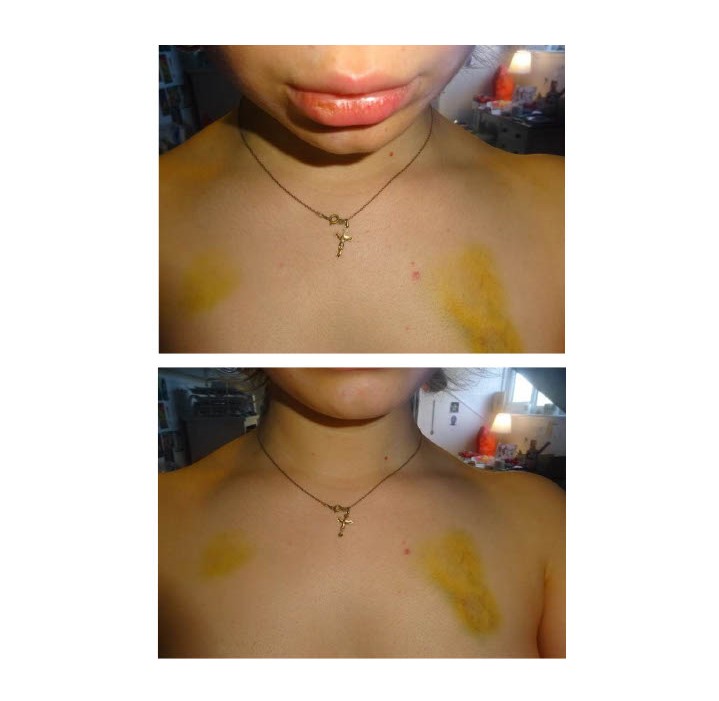 Felt Like a Hit

Bruises on body (photographed) 8.95cm x 11.8cm 8.44cm x 11.84cm
Youroboros

Pencil on coloured paper A3
---